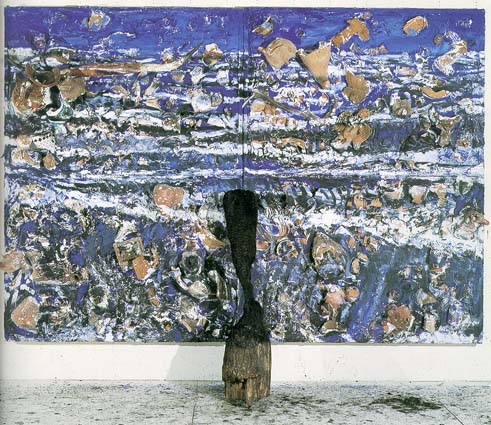 Julian Schnabel
The Sea
oil, Mexican pots and bondo on wood
9 x13 ft.


Julian Schnabel is most recently known for his directing the film, The Diving Bell and the Butterfly which I saw for the first time last night. A beautiful heart-wrenching film I highly recommend (Read the book too) This was Schnabel's 4th film (Before Night Falls, Basquiat

(David Bowie plays Warhol))

, of which I recommend both as well) but he entered the art world as a painter, crashing onto the scene in the early '80s with his famous "plate paintings".

I've seen his work a number of times and am always drawn by the ragged and rich surfaces he creates with broken plates and/or cookware and rough thick swabs of oil paint. He uses the broken objects almost as a substitute for primer. Often associated with the Neo-expressionist, his work is both lauded and criticized. What more could one ask for?

Check out this article by Donald Kuspit (a grad school prof of mine) on an exhibition of the plate paintings.

and yes, the Julian Schnabel link is to a wikipedia article. I'm tired and currently have no wish to continue looking for a good biography... so be forewarned and don't hold me to giving wiki references.